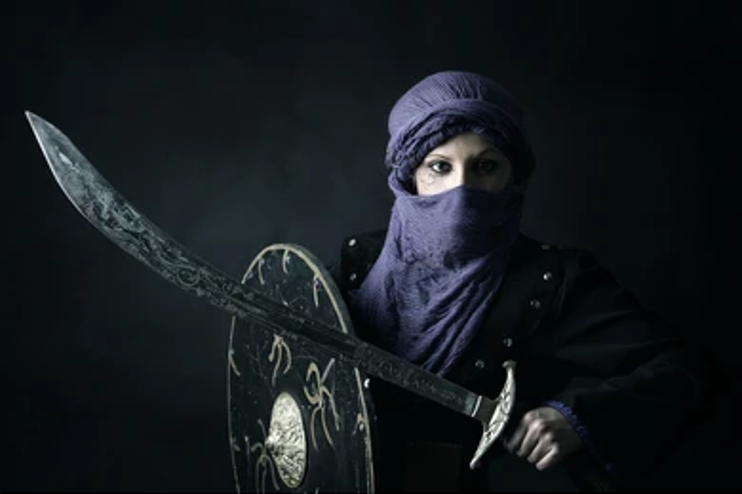 His eyes blurted open. Was someone in the room with him? Idris lay still and frozen on the bed, listening for any sound of movement.
His eyes were wide open now, getting accustomed to the darkness of a 3.30 am morning. He could hear his fan oscillating and beyond that, the ticking of the wall-mounted clock…. Tick. Tick. Tick. The air was cold against his exposed skin, with his bedsheet bunched up under his right shoulder, warm with the body heat.
As he lay awake in bed a flood of memories from his military night exercises came over him. Being woken at 2 am, 3 minutes to gear up, and then out into the yard amidst the yelling of the Drill Instructor while he and the rest of the platoon scrambled into formation.
Idris purged those thoughts from his brain. That experience was a lifetime ago. Oh! Suhoor. Right. Idris got out of bed groggily, and wiped his hand over his eyes and face. Prepare the meal. Eat. Fajr. And then head out to work. He rose and went to attend to his Suhoor. This isn't like boot camp, he grinned at the thought. This one he did voluntarily.
The mental and physiological discipline takes one out of the domain of civilian comforts and into the territory of warrior conditioning…
Ramadan is upon us, and once again we enter the month of fasting and extra worship. This year it promises to be somewhat normal, relative to the past 2 years. There might even be some aftari to attend. I wonder where would be having, and what menu would dominate the landscape.
Expect to hear, if you haven't already, proclaimed loudly from the mimbars on Jummah – "Fasting is prescribed on you as it was on those before you," and "The devil is chained" and so forth. And of course, we cannot forget the same question by our peers – "Yuh fasting owa?" or otherwise, "how you making out?" as we shovel the buss-up-shut or fried rice into our faces relentlessly. Fun times with friends. But this is on one level.
There's a deeper and much more personal effect of Ramadan on us individually. Almighty Allah tells us in the Qur'an:
---
"…Allah intends every facility for you; He does not want to put to difficulties. (He wants you) to complete the prescribed period, and to glorify Him in that He has guided you; and perchance ye shall be grateful." (Quran 2:185)
---
The mental and physiological discipline takes one out of the domain of civilian comforts and into the territory of warrior conditioning. Hazrat Umar ibn Abdul Aziz is reported to have said:
---
"The best jihad is the struggle against desire" (Al-Adab Ash Shar'iva 131)
---
Also we are told in the Qur'an:
---
He has succeeded who purifies the soul, and he has failed who corrupts the soul. (Qur'an 91-9-10)
---
As it was most likely meant to. Wake up early, have a meal, pray, and go about your day. Relinquish food and drink for the entire day, and yet still function as you need to. Be very mindful of your conduct in every situation lest your fast is in vain. We are told in ahadith:
---
"When any one of you is fasting on a day, he should neither indulge in obscene language, nor raise the voice; or if anyone reviles him or tries to quarrel with him he should say: I am a person fasting…." (Sahih Muslim Book 35, Number 2566)
'Whoever does not give up evil and ignorant speech, and acting in accordance with that, Allah has no need of his giving up his food and drink." (Sunan Ibn Majah Chapter 9, Number 1689)
"There are people who fast and get nothing from their fast except hunger, and there are those who pray and get nothing from their prayer but a sleepless night." (Sunan Ibn Majah Chapter 9, Number 1690).
---
Hasten to break the fast – but not too early, pray… repeat for 30 days. Meanwhile, as the days go by dehydration begins to kick in, impacting your patience and demeanor – some persons get very irritable and edgy while fasting. That, alongside irregular sleep hours and missed meals, begins to erode your judgment and decision-making capacities.
Missing a meal and disrupting daily habits all serve to invoke exhaustion and headaches, acid reflux, muscle cramps. For some, concentration becomes a challenge and the brain begins to flutter. Fasting takes its toll, even though it is embedded with physical benefits. Perhaps this is why we are told in Islam:
---
"O ye who believe! Fasting is prescribed to you as it was prescribed to those before you, that ye may (learn) self-restraint" (Quran 2:183)
The one who strives in the way of Allah the Exalted is he who strives against his soul. (Ahmad 23445)
---
It echoes eerily of being at a barracks, woken up for a random night exercise, obeying the command of the Drill Sargent, and undergoing some grueling exercise before you get back to base and some semblance of sanity. Or undergoing the rigors of daily training over the weeks you are there.
Going into Ramadan, we undergo our own version of military training. Annually. We condition our Nafs – our 'civilian' selves, habits and fancies, if you will, to come under our control. The thing is, doing this in the midst of your everyday routine can make it a cumbersome exercise. Perhaps this is why we are told in the Hadith:
---
"Every act of the son of Adam is for him, except fasting. It is (exclusively) meant for Me and I (alone) will reward it. Fasting is a shield… By Him, in Whose Hand is the life of Muhammad, the breath of the observer of fast is sweeter to Allah on the Day of judgment than the fragrance of musk. The one who fasts has two (occasions) of joy, one when he breaks the fast he is glad with the breaking of (the fast) and one when he meets his Lord he is glad with his fast." (Sahih Muslim Book 35, Number 2566).
---
Doing the exact same in the front-lines battling for survival is a different story, however. You tend to think about the sacrifices and irritants less, and focus more on navigating the terrain and staying alive. This is what you are prepared for in your formative training – metamorphosis from being subjected to your whims and cravings to being in charge of your physical, mental selves.
And while military conditioning is accompanied by a skillset to stay alive in the physical world, and conquer the enemy combatant, as Muslims we undergo moral and spiritual conditioning, with our physical and mental selves. We disrupt our schedules, we abstain, we regulate our conduct, worship more, give more in charity… all to conquer our Nafs and the whisperings of Shaitan.
Our battle is against our own selves, and we are commanded to do this, so that we come out stronger, in greater control of our desires, and better prepared for facing the battles that can erupt around us or within us for the rest of the year. All for the sake of Allah and in submission to His command. It may well be in recognition of this that we were told in Islam,
---
"Every (good) deed of the son of Adam would be multiplied, a good deed receiving a tenfold to seven hundredfold reward. Allah, the Exalted and Majestic, has said: With the exception of fasting, for it is done for Me and I will give a reward for it, for one abandons his passion and food for My sake." (Sahih Muslim Book 35, Number 2567)
As for him who feared to stand before his Lord and he restrained himself from his desires, then Paradise will be his refuge. (Qur'an 79:40)
---